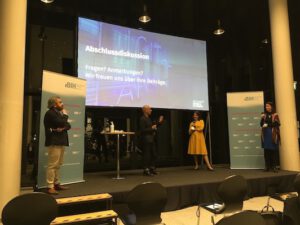 Berlin – Berlin Institute of Health
For the kickoff event of the series "Need-based Innovation & Participatory Health" at the Berlin Institute of Health Anette Ströh brought together three different perspectives on the subject of patient needs from clinical medicine, healthcare software development, and design consultancy. The presentations and following discussion focused on new forms of interaction between physicians and patients, PROMs, value-based healthcare and the discovery of patient needs for the development of new, innovative healthcare solutions. How can patients and their needs provide the impetus for the development of new (digital) diagnostics and therapies? How can a successful doctor-patient interaction be achieved for a successful transfer of research results into application?
Priv.-Doz. Harun Badakhshi, MD PhD, of Klinikum Ernst von Bergmann highlighted how fundamental the task of communication between physicians and patients is. At stake, he said, is nothing less than the redesign of the existing conversational culture within the hospital, which ought to begin within medical education.
Valerie Kirchberger, MD, of heartbeat medical outlined the importance of patient-centered data (PROMs), since the question of how treatment affects long-term quality of life has hardly been recorded to date. A good healthcare system has more than just low complication rates. When quality of life is measured, doctors identify the best therapies, hospitals save costs, and patients get significantly better. 
Danusch Mahmoudi of Designit presented an ongoing project that favors a human-centered design approach of reframing the patient by means of an extensive qualitative survey. Only through such value-based assessment could processes in healthcare be sustainably and effectively designed.